Practice management software
Clinic software that helps you streamline your practice management and operations, improve cash flow and deliver a better experience for your clients.
Practice management software – why Better Clinics?
Manage your health practice in one secure, easy to use cloud-based platform, anytime you need it.
It's all online
Book appointments, schedule your calendar and access patient information from anywhere, on any device. 
Easy to use
Intuitive design system with guided instructions so you and your team can be set-up and ready to go in no time!
Affordable
Pricing starts from just $19/month with no set up fees & contracts. Free 30 day trial, no credit card required.
Secure and trusted
Backed by Reckon, an ASX listed company with over 30 years experience as a leading provider in the software industry.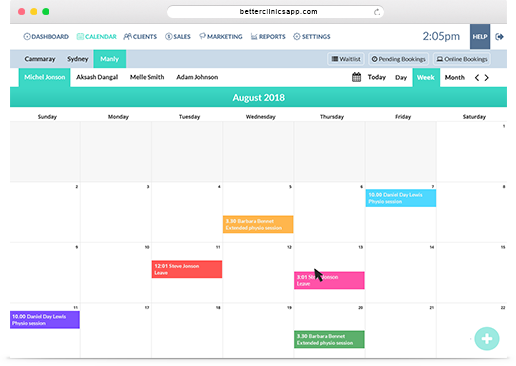 Online scheduling for appointments & online bookings
Powerful all-in-one health practice management software with appointment scheduling that helps you manage your practice efficiently whether you're working solo or managing a team of practitioners. Know instantly what your day, week or month looks like. Streamline your practice operations and reduce no shows with 24/7 online bookings, recurring bookings and automatic patient appointment reminders.
Database security for all your client management, details and notes
Your clients are the heart of your business and providing a great experience is crucial to your success. Better Clinics is allied health practice management software that lets you easily create and maintain an up-to-date database system with a comprehensive profile for each patient including contact details, clinical notes and appointment history. You can also attach documents to the system such as images or referrals for better patient outcomes. Access it on the go from any device – so you're ready to go for every appointment.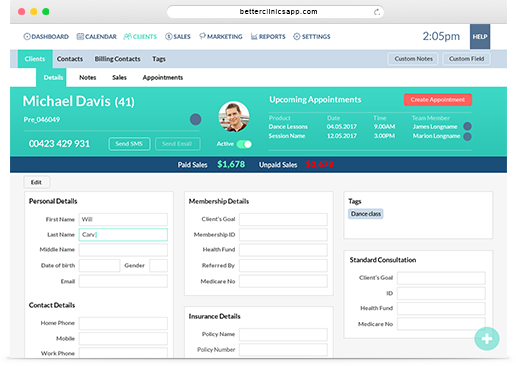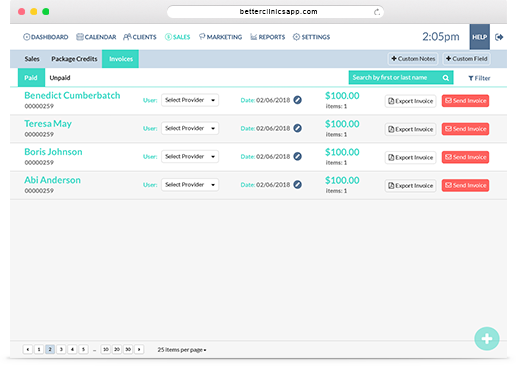 Easy cash flow management tools that save you time on managing your finances
Whether you're a physio, chiro or personal trainer, you didn't get into the health care industry to do the books! Better Clinics simplifies the financial side of your medical practice, so you have time to focus on your clients. Record patient payments (including medical billing software provider HICAPS & Tyro Health Payments), create invoices and track your expenses on the go. Generate 40+ business reports in seconds or view the system dashboard for a real-time snapshot of your clients, income and sales.
Built in digital marketing tools to help attract and retain clients to your practice
Communicate with your clients via SMS or email directly from Better Clinics, whether it's a special offer, automated appointment reminder or to motivate them between appointments. Ensure you're sending relevant customise content by segmenting your database with patient tags or integrate with MailChimp or Campaign Monitor and take your marketing efforts to the next level.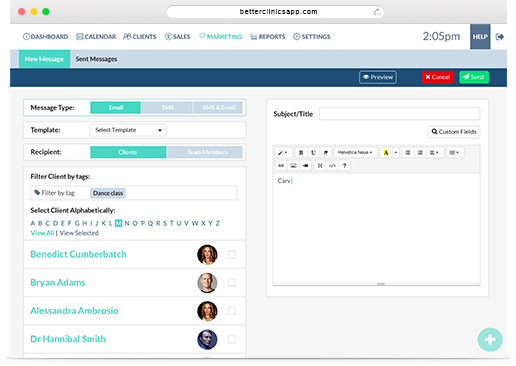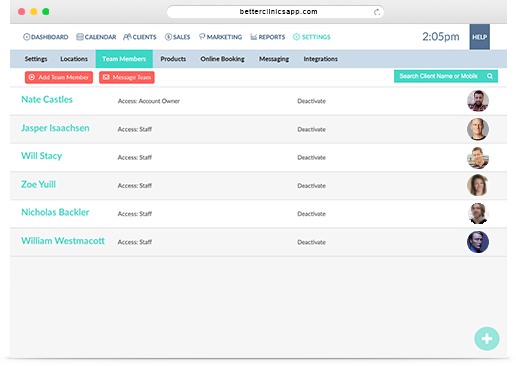 Medical team management features to help you juggle multiple practitioners & locations
Multiple practitioners with different services, availability and pricing can seem overwhelming! Better Clinics health and medical practice management software makes it easy to manage a team, whether it be their schedule, performance or invoicing and payments. Set-up multiple user logins with individual access permissions so you control who can do what inside the system. Colour code different users or so you know what's happening in your practice at a glance.
The Better Clinics team really understands my physiotherapy business. I love being able to check my schedule, client note and practice financials – anytime, anywhere. They've made running my business day-to-day very easy."