Boost patient outcomes with Better Clinics + Physitrack integration
Optimise your health practice management and monitor the entire patient journey.

Why connect Better Clinics to Physitrack?
The Better Clinics + Physitrack integration enables you greater practice management with data integrity, while also managing your patients recovery at home. Once connected you can automatically push your patient's prescribed exercise program back into their Better Clinics profile – helping you to track their recovery and enable better outcomes. Plus, both apps are web-based so you'll be able to access your information from anywhere on the go.
Treat your patients from anywhere with Telehealth
Once you've connected Better Clinics to Physitrack, you'll enjoy the freedom of Telehealth software for remote activity management. You'll be able to care for your patients through live video consultations, from wherever you both are – all through a secure, high definition video and audio connection. Your patients can book an appointment online and they'll get a confirmation email with a link that lets them jump into the call easily, all with just one click!
Better patient outcomes
Your prescribed exercise programs are automatically uploaded from Physitrack back into Better Clinics, making it easy to monitor your patient's recovery.
Link your data
Your Better Clinics client data syncs to Physitrack so you can open your patients directly from Better Clinics into Physitrack to prescribe a program.
Manage your clients
Your patient details are pushed from Better Clinics into Physitrack to save you time and reduce manual data entry.
Special Pricing
As a Better Clinics user you can save 40% and pay only $9.99p/m to subscribe to Physitrack! Just use the discount code BC40 to take advantage of this special pricing.
See our full Physitrack integration help article for more details on setting up the connection.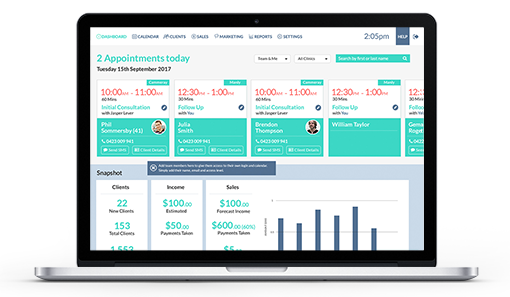 More about Better Clinics
Better Clinics is online software for health and fitness professionals. You can manage appointments, scheduling, clients and invoicing on a secure, central system. With everything you need at your fingertips you can streamline your practice management and provide a better experience for your clients.
More about Physitrack
Physitrack allows practitioners to create and prescribe clinical home exercise programs for their patients. Phyistrack comes with a free patient app that clearly narrates exercise videos to  show correct technique and built-in reminders to keep clients on track and motivated. For practitioners the app lets you track your patients adherence and progress with the program and facilitates secure telehealth calls to deliver better patient outcomes.  
TRY BETTER CLINICS FOR FREE
Instant access. No credit card required.